Overview
Active Learning is the leading provider of ITIL Training and Certification in the Philippines.

ITIL® is a registered trademark of AXELOS Limited. Used under licence of AXELOS Limited. All rights reserved.
What You Get
ITIL 4 Foundation Certification Exam
Access to Official Peoplecert ITIL 4 Learning Management System (LMS)
Official Peoplecert ITIL 4 Foundation Digital Core Guidance eBook
FREE 3 months subscription to MyAxelos
17 hours of high quality Classroom or Live Online training
2 ITIL 4 Foundation Simulation Exams with Answer Keys
17 Professional Development Units (PDUs)
ITIL 4 Quick Reference Guide
ITIL Glossary
Accredited ITIL 4 Instructor
90+% pass rate
AXELOS approved courseware
Official ITIL Foundation certificate from AXELOS (Digital)
Exam Prep Guarantee
Email consultation with instructor for 30 days
Unlimited course refresher for 1 year (Note: exams are not included)
This ITIL 4 Foundation Training and Certification course includes the official ITIL 4 Foundation Digital Core Guidance eBook and access to the official ITIL learning portal. The ITIL 4 Foundation Training and Certification Core Guidance eBook acts as a valuable source for your day-to-day work, long after your exam has finished. The ITIL 4 Official Learning Portal is a comprehensive online platform designed to provide you with the knowledge and skills necessary to understand and implement ITIL 4, the latest version of the Information Technology Infrastructure Library (ITIL) framework. The portal offers a variety of learning resources, including interactive lessons, videos, quizzes, and practice exams, to help you grasp the key concepts and principles of ITIL 4.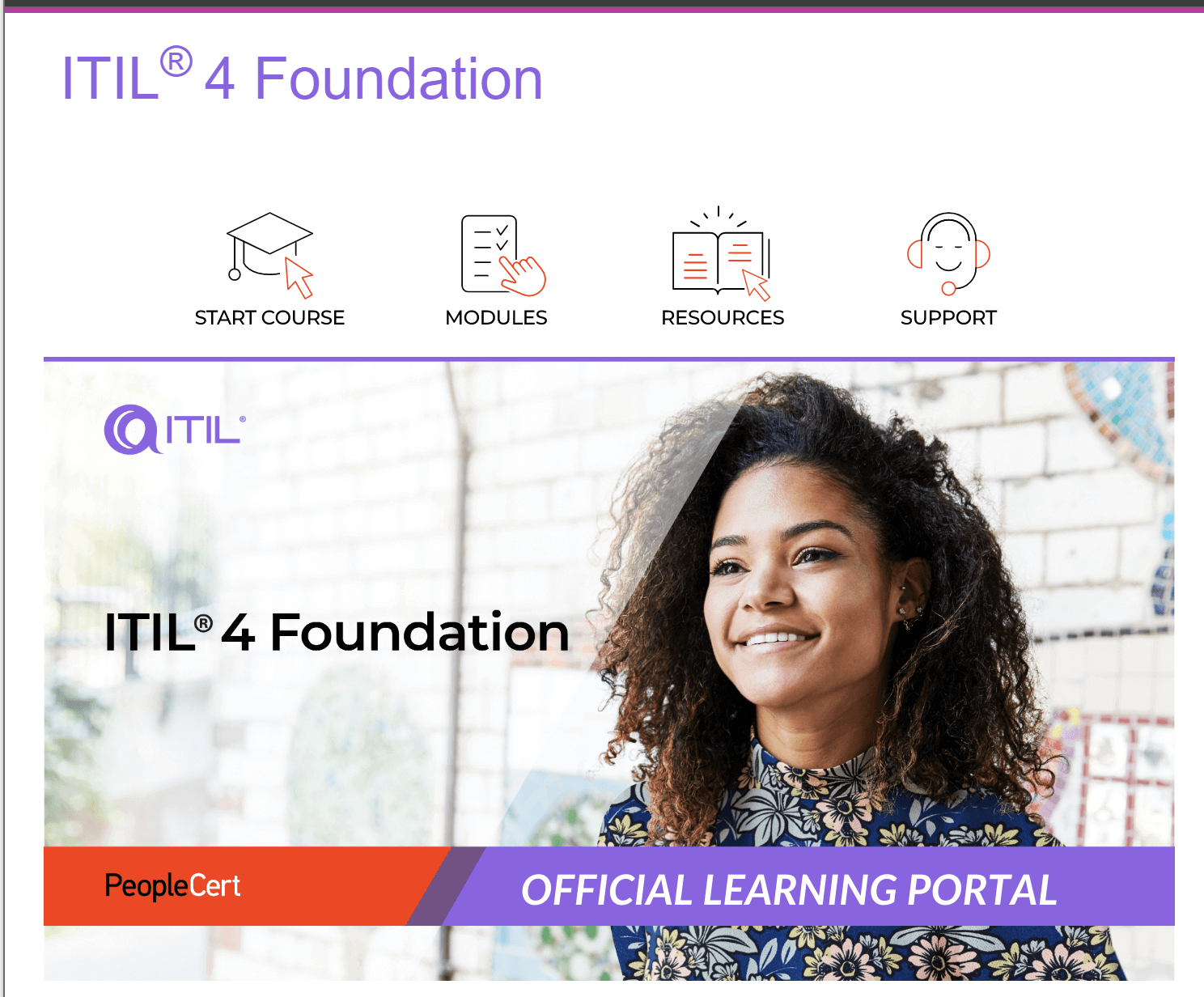 This ITIL 4 Foundation Training and Certification course includes the official ITIL 4 Certification Exam Voucher with Live Online Proctoring.
Course Benefits

ITIL is a set of best practices that have become the leading framework for Information Technology Services Management (ITSM) by many organizations. This ITIL Foundation certification program is designed as an introduction to ITIL 4 and enables candidates to look at IT service management through an end-to-end operating model for the creation, delivery and continual improvement of tech-enabled products and services.
In addition to the existing benefits of aligning IT goals and objectives with the business, improving quality and reducing cost of operation, ITSM and ITIL now emphasize the following areas:
Assist in transforming IT Service Management onto a strategic business asset
Assist in defining and managing the complete lifecycle of IT Service Management Process
Provide a holistic approach to IT service management, embracing agile practices.
Who Should Attend
This ITIL Foundation training and certification program is for professionals interested in understanding concepts of ITIL. These include:
Those who require a basic understanding of the ITIL Framework
Those who want to understand how ITIL can be used to enhance IT service management
IT professionals or others working within an organization that has adopted ITIL
Prerequisites:
About the Exam
This ITIL Foundation training and certification program lasts 17 hours and the exam takes place at the end of the training.
Training is always and only offered with the respective exam.
Multiple choice
40 questions
26 marks required to pass (out of 40) - 65%
60 minutes
Closed Book
About MyAxelos Subscription

This ITIL Foundation training and certification program includes 3 months free
MyAxelos
subscription: MyAxelos is PeopleCert's exclusive membership programme that helps you prepare for your exam and continuously stay up to date with the ITIL and ProPath frameworks.Inside MyAxelos, you will find:
Industry news and best practices, articles and white papers by subject-matter experts
Case studies focusing on industry leaders and best practices
Exam preparation materials, exam guidance videos, and certified expert content
Digital badges to share your achievement with the world
Tools that help you keep your certificate valid
ITIL 4 Certification Scheme
After completing this ITIL foundation training and certification program, you can advance your credentials further by pursuing the following ITIL training and certifications:
ITIL 4 Managing Professional
ITIL 4 Strategic Leader
ITIL Master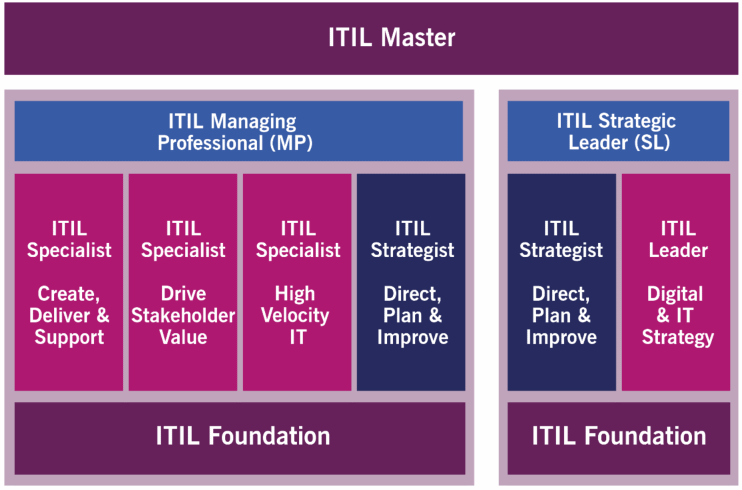 Copyright © AXELOS Limited 2018. Used under permission of AXELOS Limited. All rights reserved.
---
Introduction to ITIL 4
Purpose of ITIL
Evolution of ITIL
Definitions: Service, IT Service, ITSM
About ITIL 4
The ITIL 4 Certification Scheme
ITIL 4 Foundation Exam
Key Concepts of Service Management
Definitions
Organizations
Products and Service Offering
Service Relationships
Utility and Warranty
The Four Dimensions of Service Management
Introduction to the Four Dimensions of
Service Management

Organizations and People

Information and Technology

Partners and Suppliers

Value Streams and Processes

External factors
Service Value System
Service Value System
Inputs and Outcome of the SVS
Components of the SVS
Service Value Chain
Introduction to ITIL 4 Service Value
Chain
Service Value Chain Activities

Plan

Improve

Engage

Design & Transition

Obtain/Build

Deliver & Support

Service Value Chain Interaction with
ITIL Practices
ITIL 4 Guiding Principles
Introduction to ITIL 4 Guiding
Principles
Focus on value
Start where you are
Progress iteratively with feedback
Collaborate and promote visibility
Think and work holistically
Keep it simple and practical
Optimize and automate
Interaction of ITIL Guiding Principles
General Management Practices
Continual Improvement
Information Security Management
Relationship Management
Supplier Management
Architecture Management
Knowledge Management
Measuring and Reporting
Organizational and Change Management
Portfolio Management
Project Management
Risk Management
Service Financial Management
Strategy Management
Workforce and Talent Management
Service Management Practices
Change Control
Incident Management
Problem Management
Service Desk
Service Level Management
Service Request Management
Service Configuration Management
Availability Management
Capacity and Performance Management
IT Asset Management
Monitoring and Event Management
Release Management
Service Continuity Management
Technical Management Practices
Deployment Management
Infrastructure and Platform Management
Software Development and Management