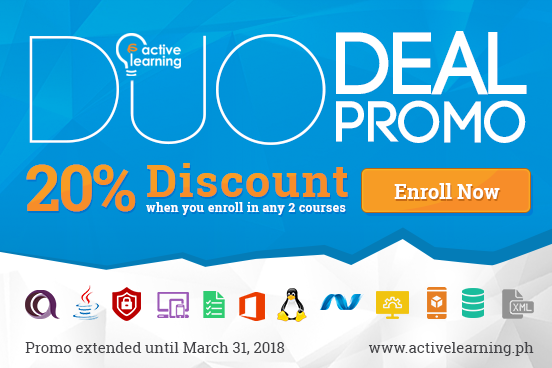 Promo Mechanics:
The same student needs to enroll in 2 different courses at the same time.
The 20% discount is applied to the total amount of 2 courses.

Example: Course A: P15,000 and Course B: P5,000
Total before discount: P20,000
Less 20% discount: (P4,000)
Discounted amount: P16,000

Full payment must be made on or before March 31, 2018.
If for any reason, you decide not to pursue your second course, you can avail of a refund for the course you did not attend, however, all discounts are nullified.

Example: If you attend Course A = P15,000 and decided not to attend Course B = P5,000, your nullified discount is P4,000, so then, your refund amount is P1,000.

Specify promo code "DUODEAL" in your enrollment form or signed quotation.
This promo applies to all courses except Microsoft Office courses.
Promo period is from January 2 to March 31, 2018.
This promo cannot be used in conjunction with other promos and discounts.