CompTIA Network+
CompTIA Network+ Training Philippines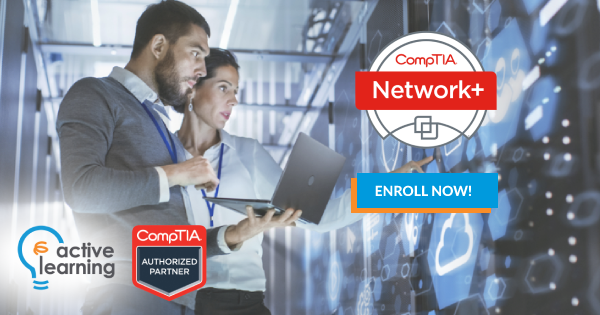 Overview
What You Get
CompTIA Network+ (N10-007) Exam
5 days of high-quality classroom training
Hands-on Labs
CompTIA Accredited Trainer
Access to ActiveLearning's Virtual Labs
More than 300 drill questions with answer keys
Online access to CompTIA Network+ learning resources
Official CompTIA Network+ Digital Courseware
Certificate of Attendance
Unlimited course refresher for 1 year (Note: exams are not included)
Courses Benefits
CompTIA Network+ certification is an internationally-recognized, vendor-neutral certification for network management. This course will help you develop a career in IT infrastructure covering troubleshooting, configuring, and managing networks.
This course can benefit you in several ways:
• If you are preparing for any type of network-related career, it provides the background knowledge and skills required for you to be successful
• It can help you prepare for the CompTIA Network+ examination
You Will Learn How To
Design and implement functional networks
Configure, manage, and maintain essential network devices
Use devices such as switches and routers to segment network traffic and create resilient networks
Identify benefits and drawbacks of existing network configurations
Implement network security, standards, and protocols
Troubleshoot network problems
Support the creation of virtualized networks
Who Should Attend
This course is intended for entry-level computer support professionals with a basic knowledge of computer hardware, software and operating systems and wish to increase their understanding of networking concepts. The course is also intended for those who would like to prepare for the CompTIA Network+ certification.
It also provides the required skills to prepare you for a career in network support or administration.
Course Prequisites
To ensure your success in this course, you will need to be familiar with basic hardware and operating system concepts.
If you are pursuing a CompTIA technical certification path, obtaining the CompTIA A+ certification is an excellent first step to take before preparing for the CompTIA Network+ exam.
Course Investment
Course Outline
Network Theory
Network Types
Network Standards and the OSI Model
Data Transmission Methods
Bounded Network Media
Copper Media
Fiber Optic Media
Bounded Network Media Installation
Unbounded Network Media
Wireless Networking
Wireless Network Devices and Components
Implement Wireless Technology
Internet of Things
Network Implementations
Physical Network Topologies
Logical Network Topologies
Ethernet Networks
Network Devices
TCP/IP Addressing and Data Delivery
The TCP/IP Protocol Suite
IPv4 Addressing
Default IP Addressing Schemes
Create Customs IP Addressing Schemes
IPv6 Addressing
Routing and Switching
Switching
Network Packet Routing
Static and Dynamic IP Routing
VLANs
TCP/IP Implementation
Configure IP Addresses
Naming Services
TCP/IP Utilities
Common TCP/IP Protocols
Network Security Analysis
Introduction to Network Security
Network Security Policies
Physical Security
Common Network Attacks
Network Security Implementation
Authentication
Access Control
Port, Service, and Protocol Security
Wireless Network Security
Patches and Updates
Mitigation Techniques
WAN Infrastructure
WAN Basics
WAN Connectivity Methods
WAN Transmission Technologies
VoIP
Cloud and Virtualization Techniques
Virtualization Technologies
Network Storage Technologies
Cloud Computing
Remote Networking
Remote Network Architectures
Remote Access Network Implementations
Virtual Private Networking
Network Management
Monitor Networks
Document the Network
Establish Baselines
Optimize Network Performance
Ensure Business Continuity
Troubleshooting Network Issues
Network Troubleshooting Methodology
Network Troubleshooting Tools
Troubleshoot Wired Connectivity and Performance Issues
Troubleshoot Wireless Connectivity and Performance Issues
Troubleshoot Network Service Issues