Python Programming
Python Training Philippines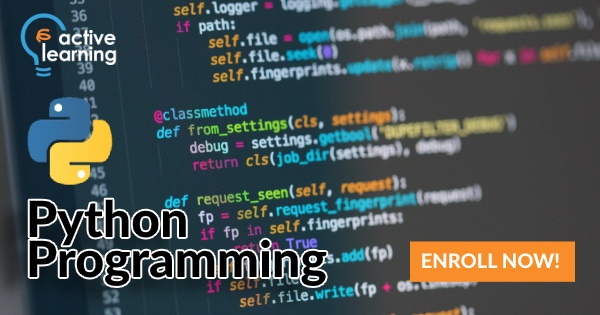 Overview
Courses Benefits
Python is a widely used, open-source programming language that is especially suited for a wide range of applications including web development, machine learning, and data science.
This Python training course provides the foundations for you to start writing Python applications. You will learn the basics of the Python language, as well as advanced concepts like Object-Oriented concepts.
You Will Learn How To
Write effective, efficient Python scripts
Create programs that make use of Object-Oriented Programming concepts such as inheritance and polymorphism
Use Python's exception handling framework
Create a simple Django web application
Who Should Attend
This Python training course is valuable for those wanting to develop applications using Python. Prior programming experience is required. Knowledge of Object-Oriented Programming (OOP) is helpful, but not required.
Course Investment
Course Outline
Introduction to Python
What is Python?
Why Python?
Setting Up for Python Development
Writing Your First Python Script – "Hello World"
Displaying Output
Reading User Input
Debugging
Basic Python Syntax
Introduction
Code Blocks, Comments, and Whitespaces
Literals and Variables
Data Types
Type Conversion
Arithmetic Operators
Conditional and Logical Operators
Operator Precedence
Control Flow Structures
Decision Control
Repetition Control
Collections
Lists
Tuples
Dictionaries
Strings
Introducing Strings
Determining String Length
Getting a Character within a String
Looking for a String within a String
Getting a Portion of a String
Splitting a String
Joining Strings
Removing Whitespaces from a String
Combining Strings
Formatting Numbers
Replacing a Part of a String
Converting to Uppercase or Lowercase
Comparing Strings
Functions
Introducing Functions
Creating and Calling Functions
Defining Function Parameters
Passing Arguments to Functions
Specifying Optional Parameters and Default Values
Using Named Arguments
Returning a Value from a Function
Understanding Local and
Global Variable Scope
Modules
Introducing Modules
Importing Modules
Renaming a Module
Setting the PYTHONPATH Variable
Standard Libraries
Working with Dates using datetime Library
Interacting with the OS using os Library
Performing Mathematical Operations using math Library
Generating Random Values using random Library
Object Oriented Programming
Object-Oriented Programming
What is an Object?
What is a Class?
Instantiating Objects
Defining Constructors
Declaring and Initializing Attributes
Accessing Attributes
Declaring Methods
Calling Methods
Passing by Reference
Comparing Objects
Decorators
Creating and Accessing Static Attributes
Creating and Accessing Class and Static Methods
Creating Properties and Setter Methods
Inheritance and Polymorphism
Inheritance
Method Overriding
Polymorphism
Member Visibility
Exception Handling
Introducing Exceptions
Handling Exceptions using try-except
Handling Multiple Exceptions
Passing the Exception Object
Using the else Block
Using the finally Block
Raising Exceptions
Creating Your Own Exception Types
Introduction to Django
What is Django?
Setting Up a Django Application
Creating a Django Project
Running Your Django Project
Creating a View
Mapping URLs
Using Templates
Passing Data to Templates
Reviews
"The instructor was very accommodating especially in exercises and answering questions."
Business Systems Support Head, Philippine Daily Inquirer
"Instructor was very straight to the point and uses practical applications in the coding. I enjoyed the lessons very much."
IT Engineer, Infineon Technologies – Cavite
"I like the way the instructor explained and elaborated the question and she is very responsible to answer our questions."
IT Programmer, Big E Food Corporation
"Able to accommodate our questions and also provide leads."
IT Consultant, Arehi Enterprise LTD