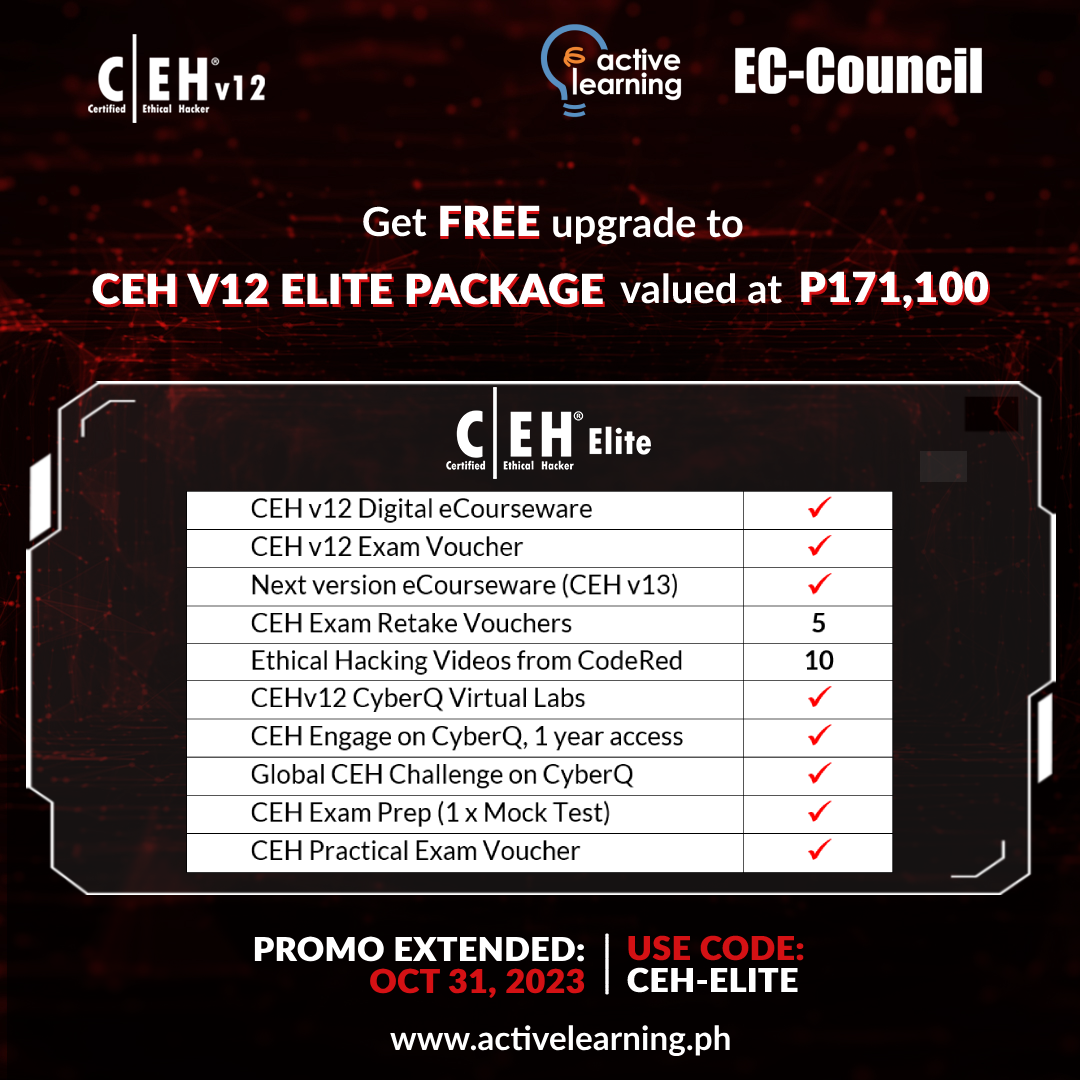 Promo Mechanics:
Get FREE upgrade to CEH v12 Elite Package valued at P171,100! To avail of the promo, use Coupon Code "CEH-ELITE" on your enrollment form or signed quotation.



Inclusions in the CEH v12 Elite Package:

Description
Extended Price
5 CEH Exam Retake Vouchers
P61,000
Next version eCourseware (CEH v13)
P49,000
10 Ethical Hacking Videos from CodeRed ( 1 year access)

Open Source Intelligence
Wireshark for Ethical Hackers
Ethical Hacking with Nmap
Windows Penetration Testing Essentials
Session Hijacking and Prevention Techniques
Power of Next Generation Firewalls
OWASP Top 10 Security Fundamentals
Burp Suite: Web Application Penetration Testing
Deep Dive into Network Assessments
Applied Secure Smart City

P2,300
CEHv12 CyberQ Virtual Labs (6 months)
P7,900
CEH Engage on CyberQ, 1 year access
P11,500
Global CEH Challenge on CyberQ, 1 year access
P17,500
CEH Exam Prep (1 x Mock Test), 1 year access
P8,000
CEH Practical Exam Voucher
P13,900
TOTAL
P171,100
The discounted amount should be the actual amount remitted to ActiveLearning, net after taxes and other deductions.
To avail of the promo, full payment must be made at least 5 working days before the training or before Oct 31, 2023, whichever is earlier.
Promo extended until Oct 31, 2023 only.
This promo cannot be used in conjunction with other promos and discounts.
Course must be taken by Nov 30, 2023. Otherwise, regular rates will apply.
Proctoring fees of P2,000 per exam apply for exam retakes.
Offer valid for first 10 enrollments only.